AUTUMN PACKAGE offer
2/3x overnight stay in a standard room, 2/3x 3-course dinner in our restaurant, 2/3x breakfast buffet, Free use of swimming pool, wellness and fitness
View this offer
Much more than a hotel
A spacious indoor pool, wellness and modern fitness.
Sporty and endlessly relaxed.
210 luxurious hotel rooms and theme suites. Enjoy a good night's sleep after a busy day
A cosy restaurant and hotelbar. Enjoy your dinner and drinks in a pleasant environment
12 meeting rooms, free parking and WIFI. Your guests are equipped with all comforts
A spacious indoor pool, wellness and modern fitness
&
A free coffee or tea
No reservation fee
Cancellation free of charge on day of arrival until 12 am. Excluded are non-refundable and early bird rates
STAY OVERNIGHT

The measures have been changed again in the Netherlands. What does that mean for you during a stay in our hotel?

Welcome back to our restaurant!

You can enjoy a delicious breakfast buffet and a la carte dinner in our restaurant as usual! For breakfast and dinner we advise to book a table in advance through the reception to avoid any disappointment. If you do not stay overnight in the hotel, it is unfortunately not (yet) possible to use the breakfast buffet.

We are doing everything we can to provide you with a safe and carefree stay in accordance with the RIVM measures. We do ask you to keep a safe distance from other hotel guests and employees at all times.

Corona en safety

VACANCY HOUSEKEEPING EMPLOYEE

Looking for a job in the hotel industry? We are immediately looking for enthusiastic housekeeping employees!As a Housekeeping employee, you are the one who ensures that the guest has nothing to say about his hotel room. In this way you are jointly responsible for giving the guest a fantastic stay at Hotel Akersloot.

Is this the perfect job in cleaning for you and do you want to be part of the best cleaning company in the Netherlands?

For more information or to apply for this position please send an email to karima.decock@hago.nl

VACANCY COOK

If you don't turn your hand for a perfectly cooked tournedos, we're looking for you! From carpaccio and schnitzel to tuna tataki and tournedos.
At Van der Valk you can prepare both the old familiar dishes and luxurious dishes. Every week, large numbers of guests come to eat in the à la carte restaurant, the lounge and at the buffets. Working with us means being genuinely engaged in your profession, space for your own creativity, career opportunities and a friendly team!

Are you interested in this position?
Then we would like to receive your motivation with CV.
For more information or to apply for this position please send an email to



ENJOY THE AUTUMN NEAR AKERSLOOT!
Van der Valk offers Delicious Autumn, a package especially for the months of September, October and November. Then you can enjoy this attractively priced package in our hotel. We warmly welcome you and wish you a wonderful Autumn!
The Lovely Autumn package is available from September 1 to November 30.
Book here
Bike rental

Enjoy cycling along the coast, through the dunes of North Holland, or the beautiful meadow landscapes. With our comfortable rental bikes you can get everywhere. Even if you do not spend the night at our hotel, you have the option of renting a bicycle. We charge a deposit for this.

Bike rental & E-chopper

PINK SUITE

Life in pink! Also in love with Pink? Discover our completely new Pink Suite and enjoy absolute luxury! This suite has a spacious bedroom with a king-size bed and flat screen television. The suite is equipped with a large whirlpool and sauna. Breakfast can of course be taken in the room.

RESERVE
Dream suites for every occasion
A romantic trip or an unforgettable wedding night: we offer you spectacular theme suites in totally different styles.
View all of our suites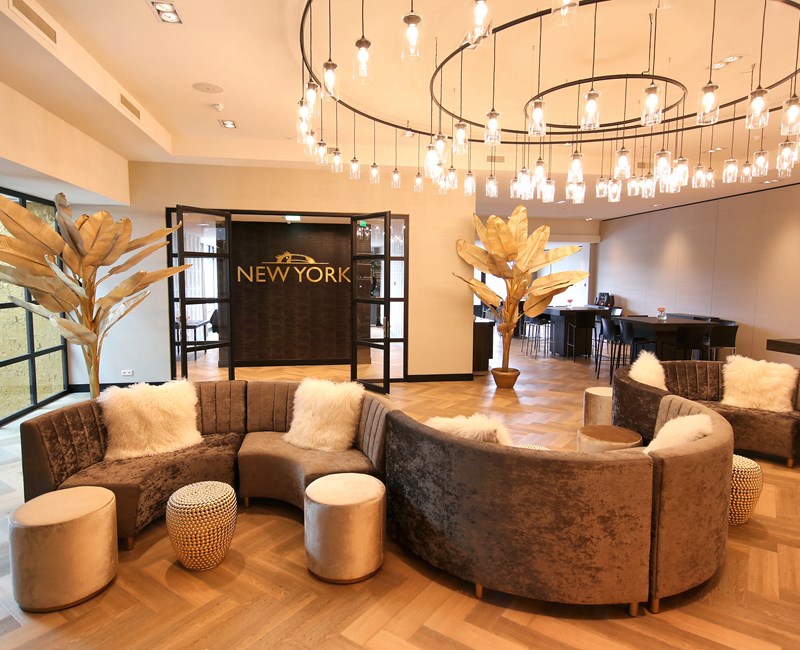 Meetings en Celebrations
Our enthusiastic team will make sure that your event is planned to perfection. Your meeting, congress, festive occasion or wedding is in good hands.
Discover the possibilities
Do not miss any action & offer
Stay informed about exclusive deals and 72 hour promotions
Get tips for discounted weekend getaways
Subscribe to our newsletter!